[Featured image by Olive at the Jeremy Hawkes Workshop]
September was an incredibly busy month. It began with the excitement of the lease starting on what we hoped would be our Fundability funded gallery and creative space. To the disappointment of all of us, and all of the town, this was not to be. Sadly, after a lot of effort time, and energy (things that are not in abundance in the lives of many disabled people), we are again looking for a place to help our members, our town, and the creative community. We have the money – just need the space!
Despite the heartache caused by losing the space, there are pleasing things that came out of the exercise, seeing our members selling their work, and one of our members making her first ever sale. Fantastic!   One of our members is also engaging in a script writing class and using the events as a basis for a TV pilot script – turning lemons into lemonade. We disabled artists are great at re-purposing, and re-framing – it's one of our survival skills.
Then we had the amazing Jeremy Hawkes lead a workshop at Pilliga Pottery and take the group through his process of taking organic shapes and making abstract images from them. The RAF funded workshop was a fantastic success and we look forward to working with Jeremy again in the future.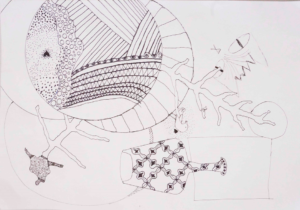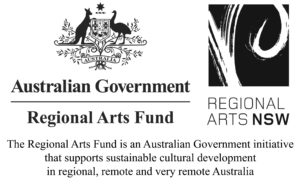 Around this time everyone seemed to come down with a nasty virus that was going around town. Lots f sneezing, croaky voices, and staying in bed. This didn't stop the group entering the Star Art competition though – two members won place prizes out of the five that were awarded.
October is sizing up to be another busy month as well – the WAACI Art Expo, another professional skills workshop funded by our RAF grant, this time with Kerri Shying and Justine Cogan….and who knows maybe we will be able to find that retail space fr the gallery and creative space that the town and the creative community desperately needs!